Kiwi Trade Services – Residential Roofing Specialists
---
KTS Roofing and Spouting are professional metal roofing contractors based in Auckland and servicing Auckland, Waikato and Bay of Plenty.
With over 20 years' experience in the roofing industry, we specialise in the installation, renovation and repair of residential metal roofs, gutterings and flashings using longrun iron roofing.
---
Residential Roofers – New Homes and Reroofing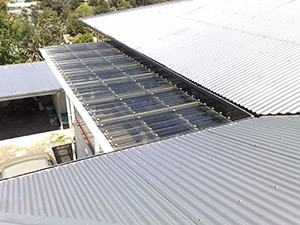 Whether you are building a new home or reroofing your existing home, we are the residential roofers to call for a strong, durable steel roof.
We understand that when it comes to roofing you want yours on as quickly as possible. We offer all of our clients a fast and reliable steel and metal roofing and guttering service using New Zealand's best metal roofing materials including:
Colorcote roofing
Colorsteel roofing
Unpainted Zincalume
Unpainted galvanised, and
Copper
And, all our materials and workmanship are fully guaranteed.
---
Full Home Roofing Service
Check out the roofing services we can offer you at your place:
New iron roofs
Iron roof replacement
Metal roof repairs
Metal flashings
Any sized roof and any height (we are fully accredited for height work)
In short, there is no metal roofing job we cannot handle.
---
For industrial roofing and commercial roofing solutions, click here.
Click here to contact us or request a quote.
---